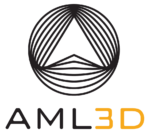 AML3D
Additive Manufacturing
About AML3D
AML3D (trading as AML3D Ltd) is a high growth technology-based company with a focus on welding, robotics, metallurgy and software which uses WAM (wire arc additive manufacturing) processes to produce metal components and structures for commercial use. AML3D was founded in South Australia in 2014 by Andrew Sales, a specialist in welding technology who has a double Master's Degree in Mechanical Engineering and Science with over 27 years' global experience in the oil & gas resources, and mining sectors.
It combines a deep understanding of state-of-the-art welding science, robotics technology, metallurgy and CAD software design to produce an automated 3D printing system operating in a freeform environment. This enables fast and efficient manufacture of components and structures, which are more cost-effective and have increased strength compared to traditional casting, forging or fabrication.
Building on the company's unique expertise, achievements and continued relationships with universities and scientific organisations (CSIRO & ANSTO), AML3D® Limited has further upgraded the manufacturing service bureau headquartered in Adelaide. It still remains the only metals diversified large-scale WAM® production facility in the Southern Hemisphere and is capable of producing finished parts and components to a certified standard under an accredited Quality Management System.
AML3D's Core Business
AML3D's core business model involves securing contract manufacturing orders from end users in the defence, maritime, aerospace, and general manufacturing sectors. Currently, AML3D's revenue model includes contract manufacturing services which are provided through its Adelaide Contract Manufacturing Centre.
The Company has conducted multiple trials in order to demonstrate the application of metallic parts and components made using its WAM® process including its proprietary WAMSoft® software, in the aerospace, marine, oil and gas and shipping sectors. These trials have resulted in the Company gaining Accreditation and Quality Certification from Lloyds Register as the first wire-feedstock Additive Manufacturing facility globally.
An exciting opportunity has arisen for the Premier's Defence Industry Scholarships Program within AML3D Limited
We are seeking an Engineering / Mechatronics / Project manager – Based in Adelaide, South Australia
Reporting directly to the Workshop Manager
An exciting new opportunity exists for a junior engineer to join an innovative international company as part of the engineering team, reporting to the workshop manager.
The successful candidate will work within a friendly and flexible environment and be part of interesting and innovative projects.
This position has excellent career opportunities with ongoing internal training provided for the right candidate.
Primary responsibilities will be project management, 3D Inventor drawings &, mechanical design.
To be considered for this role you, must meet the following requirements:
1. Tertiary Mechanical or Mechatronics qualifications or studying towards
2. Previous project management experience – desirable
3. Exposure to Autodesk Inventor and Autodesk Mechanical, preferable
4. A pro-active, can do attitude and the ability to hit the ground running
5. Must be willing to get hands on
6. Must be able to work in a team environment
7. Confidence in liaising with various internal stakeholders
8. Australian citizen
Highly desirable attributes:
• Experience in Industry 4.0 Technologies, Disruptive Technologies, Robotic Welding, Advanced Manufacturing and/or Engineering.
• Background or experience working within Defence.
• Background in related engineering manufacturing industries including robotics, advanced manufacturing, weld engineering or related industries, is desirable